The theft in Spain of a $1.35 million Richard Mille watch — one of just 75 such pieces in existence and reportedly among the most expensive ever made — has stirred heated speculation, accusations, and counter-accusations in Azerbaijan.
The alleged former owner of the watch is the son of the president of SOCAR, the Caucasian country's massive state-owned oil company. The affair could have serious political implications.
Reports in the Azerbaijani media tentatively identified 25-year-old Rashad Abdullayev as the victim of the June 19 theft based on a leaked Ibiza police report. In response, a SOCAR press secretary denied the story as "fake," describing it as an allegation against Abdullayev's father Rovnag Abdullayev, the company president.
The personal data in the police report — the complainant's name, his date of birth, and the name of his mother — all match the known biographical details of the SOCAR head's son as they appear in a database of Azerbaijani citizens. His email address, as given in the police report, also matches the one listed on his LinkedIn profile in 2014.
A senior retired Spanish police officer who examined the police report has confirmed to OCCRP that it was authentic based on information provided by his former colleagues. The officer, who asked not to be identified because he was not authorized to receive confidential police information, related investigators' astonishment at the allegation of such a theft. "[They've] never seen anything like it," he said. "The investigators in Ibiza still don't know if the motivation for the complaint is true or not."
Another young Azeri initially reported to be the watch's owner, Timur Ahmadov, accused Abdullayev directly in a profanity-laced YouTube statement in which he emphasized the family's alleged corruption.
"The son of the head of the oil company of Azerbaijan got his watch nicked in Ibiza last week," Ahmadov said in the video on June 28. "They've gone around in the Azerbaijani media writing that it's me … and that I love million-pound watches … But in reality I don't actually wear any watches, and I don't need any watches, I don't like them. This guy obviously is trying to save his ass."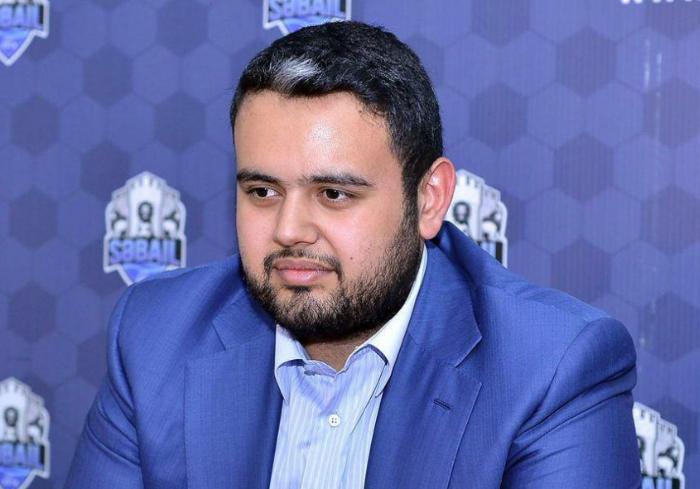 A New Story
Despite the initial SOCAR denial, the younger Abdullayev seems to have decided to accept at least part of the story.
OCCRP reporters have seen a subsequent amendment to the initial police complaint by the young man's lawyer in which the 25-year-old's presence in Ibiza, possession of the watch, and watch's value are not disputed.
However, the amendment attempts to disassociate Abdullayev from the watch, claiming that the luxury timepiece did not belong to him; rather it says that he was borrowing it from someone else. It names a Seymur Mekhtiev as the real owner, listing his address in Moscow on the historic Tverskaya Street in the city center.
Reporters found people named Seymur Mekhtiev in Russia, Azerbaijan, and the United Kingdom, though the lack of identifying information makes it impossible to determine who the claim might be referring to. Reporters could find no evidence that any of these men are major businessmen for whom such an acquisition would be possible.
According to Moscow property records, the apartment named as Mehkhtiev's actually belongs to Oleg Kalaev, who is the former finance minister and vice premier of the Russian republic of North Ossetia-Alania.
"Yes, that's my apartment. We live in it when in Moscow," Kalaev confirmed to OCCRP. "I don't know a person named Seymur Mekhtiev. There must be some mistake. I've owned this apartment for many years … There are only three people registered in it — me, my son, and my sister."
"It is one hundred percent a mistake," Kalaev said.
Modest Officials
Azerbaijan's president, Ilham Aliyev, has ruled the country since 2003, frequently repressing independent journalism and political opposition and presiding over a country beset by corruption.
This is an impression he, at least, would like to change. "State officials should behave modestly. Them and their family members," he said in a speech last year. "They need to be with the people. They shouldn't think that they have a special status. Their job is to serve people and solve their problems."
According to a SOCAR annual report, the official salaries and benefits for the company's president and 12 vice presidents totaled 1.28 million manat ($755,000) in 2018 — considerably less than the value of the stolen watch. (Abdullayev reported its value at 1.2 million euros, or $1.35 million; the model was reportedly initially available for just under $1 million.)
But this isn't the first time the son of the state oil company head has found himself under the microscope.
Rashad Abdullayev was previously investigated by OCCRP and found, at the age of 21, to have worked in business structures affiliated with SOCAR and to have run a charity associated with the oil company that supported thousands of Azerbaijani students in Turkey. According to the investigation, he started working for a SOCAR company at the age of 17.
If it indeed belonged to him, the watch stolen in Spain does not appear to be Rashad Abdullayev's first such possession. A 2017 photo at a meeting of the Sabail Football Club, of which he was chairman, shows him wearing a watch that a specialist identified as the Roger Dubuis Excalibur Quatuor, which costs more than $1 million.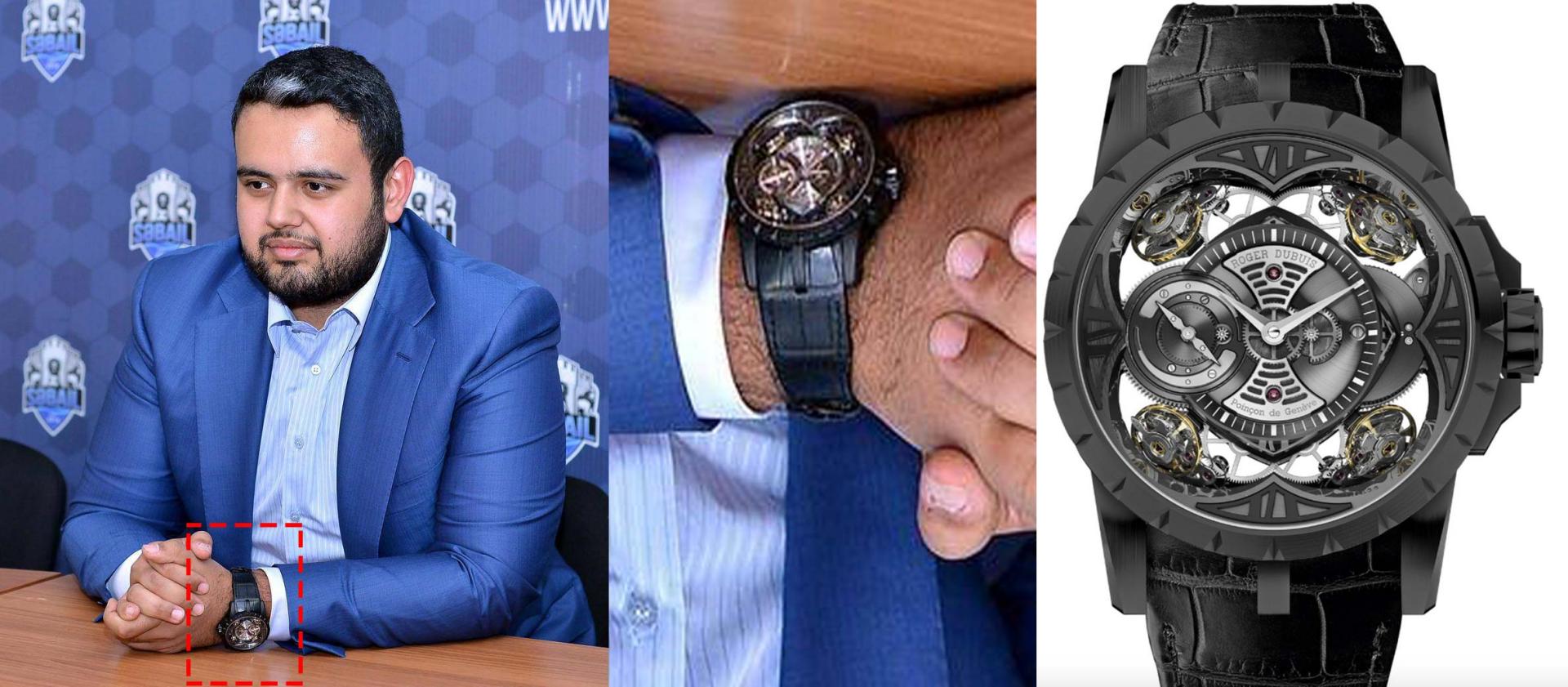 Adbullayev's father, SOCAR president Rovnag Abdullayev, has also been pictured with expensive watches, though they do not come close to the value of those worn by his son.
"This raises serious questions, given that senior public officials at SOCAR and their relatives are flashing watches worth many times their official salary," said Barnaby Pace, a campaigner at anti-corruption advocacy group Global Witness who has previously investigated the Azerbaijani oil giant.
"Time and again we've raised concerns about the lack of public information about the true beneficiaries of SOCAR's deals. But journalists and civil society activists continue to face violence and repression for asking questions about corruption in Azerbaijan, and so suspicions around who is truly benefitting from Azerbaijan's oil wealth will only grow."
Neither Rashad Abdullayev nor SOCAR responded to requests for comment.