Credit: Van Der Valk Company
A Yanukovych Pal and the €13 Million Yacht his Family Loves
Anton Prygodskyy used to hunt with Viktor Yanukovych, the former president of Ukraine, in a private hunting club just outside Kyiv.
Prygodskyy, a former member of Parliament, used to be a friend of the deposed president, though he told local media that the two fell out in 2007. What's clear is that their paths diverged after the revolution of 2014, when Yanukovych fled to Russia and Prygodskyy kept doing business in Ukraine.
Prygodskyy has not appeared in public since the revolution. Yet his firms still won state tenders as recently as 2016. And he has kept busy in other ways.
Leaked documents show that, over the past several years, Prygodskyy was building a luxurious 37-meter yacht equipped with marble and expensive wood fittings.
The records from Appleby, a Bermuda law firm, were obtained by the German newspaper Süddeutsche Zeitung and shared with the International Consortium of Investigative Journalists (ICIJ), which organized a collaborative investigation with partners around the world, including the Organized Crime and Corruption Reporting Project (OCCRP).
To keep the construction of the yacht secret and minimize taxes, Prygodskyy worked through Maltese companies. For a yacht that cost some €13 million, he probably saved over €3 million in taxes.
In October, OCCRP reporters managed to locate the empty yacht at its berth in the Croatian city of Pula. "No photos," warned a nearby sign.
Dutch Quality
In 2013, Van der Valk, a leading Dutch shipyard known for its custom-built yachts, received the order to build a luxury yacht. It was a challenging assignment for the company: its first 37-meter-long vessel.
The Santa Maria T, a handsome grey and white ship crafted of steel and aluminium, was first launched in the spring of 2015.
Bohdan Parfeniuk, a yacht expert, was impressed. "The Dutch level of quality is unattainable for most [other] shipbuilding companies in the world," he said. "This yacht has basically no limits in its use. It can be used to cross oceans since it has huge storage facilities for water and fuel."
Scorching heat or freezing cold would make no difference, he said. "In terms of thermal protection, you can use it to travel even, for instance, to the Arctic. From the tropics to the permafrost."
In 2015, Santa Maria T was exhibited at an annual yacht exhibition in Cannes, and later drew the attention of international publications that specialize in luxury vessels.
Another outstanding feature is the yacht's opulent art-nouveau interior, with its extensive use of marble. Both the interior cabins and exterior were tailored to the customer's preferences.
To find out how much it cost to build the Santa Maria T yacht, OCCRP journalists sent an inquiry to the Van der Valk office, posing as Ukrainian clients. The response said that constructing a similar yacht would cost at least €13.2 million (without value-added tax or VAT).
Maltese Opportunities
According to documents obtained by journalists, a vessel called the Santa Maria T is mentioned in the financial reports of two firms: TUC Limited and Ala Int. Limited. These firms are registered at the same address in Malta and share a director. The ultimate beneficiary of both – the man who controls the companies – is Prygodskyy.
The 2014 annual reports of show assets of under $2,000 for Ala Int. Limited, and over 5.6 million euros for TUC Limited. Tetiana Shevchuk, a lawyer from the Anti-Corruption Action Center, a non-governmental organization, has been helping journalists to make sense of the financial reports.
"Nearly 6 million euros were received by [TUC Limited] as a loan from a shareholder," she explained. The shareholder was not identified in the reports.
"This is a very simple operation on the part of the shareholder – you transfer the money so that the company can spend it. To avoid taxation, the money is transferred as a loan. From the report, we see that this loan was used to buy some property."
The only property mentioned in the TUC financial report was a motor yacht named Santa Maria T, raising the possibility that Prygodskyy transferred the € 5.6 million to his own firm's account to help pay for the yacht's construction. It is unknown where the rest of the money came from.
"This is a kind of a de-personification of funds, if you will. Now, it is the company that supposedly owns the money and the company buys certain assets," Shevchuk said. "This, in particular, could have been a desire to conceal the investment from the Ukrainian state and regulators."
Buying a vessel through a Maltese company using a specific leasing arrangement allows the buyer to reduce the VAT for yachts that are 24 or more meters long from 30 percent to 5.4 percent – a significant savings.
The scheme usually works like this:
A client registers a company in Malta.
The company buys a yacht from a shipyard.
The yacht is brought to Malta.
The company leases the yacht to a third party – this is the yacht's actual owner or his representative.
Once the lease agreement ends, the third party buys the yacht for 1 percent of its purchase price.
The buyer pays the minimum VAT and the yacht can now move freely within the EU.
In the financial reports filed by Prygodskyy's Maltese companies, it says that in July 2015, Santa Maria T was leased by TUC Limited to a third party, Ala Int. Limited, through a leasing agreement. It appears that Prygodskyy took advantage of this opportunity to reduce taxes.
Given that a yacht like Santa Maria T would cost over €13 million without VAT, using such a scheme with his Maltese companies could have saved Prygodskyy around € 3.25 million.
These actions are perfectly legal under Maltese law, but are limited to wealthy persons with very large boats.
Who is Prygodskyy?
In 2016, Forbes Ukraine evaluated Prygodskyy's total assets at US$ 125 million.
He also maintained a close relationship with Ukrzaliznytsia, Ukrainian Railways. Companies connected to Prygodskyy regularly won tenders to provide a variety of services to Ukrzaliznytsia worth hundreds of millions of hryvnias.
Until 2012, Prygodskyy had a joint enterprise with another old friend of Yanukovych, Rinat Akhmetov, who is known as Ukraine's richest man.
Akhmetov and Prygodskyy once co-owned Lemtrans, a company that provided multiple services to Ukrzaliznytsia. After Yanukovych fled Ukraine, the country's Prosecutor General's Office ordered an investigation of a company controlled by Prygodskyy and Akhmetov. However, the case hasn't yet gone to court.
Prygodskyy co-owns Naftagazstrah, a large insurance company in Ukraine, through an Austrian firm. As recently as 2016, the firm won a tender worth millions of hryvnias from Ukrtransgaz, a subsidiary of a state-owned gas company, to insure its employees. His son Vitaliy Prygodskyy owns agricultural businesses in the Donetsk region and in occupied Crimea.
Mediterranean Adventures
Throughout the summer of 2017, the Santa Maria T sailed around the Croatian islands. By September and October, it was in the Croatian city of Pula. When an OCCRP reporter visited the yacht club where it is currently berthed, the vessel was empty. The yacht's serviceman said the last name 'Prygodskyy' rang a bell.
It is impossible to officially determine who owns the yacht, as it operates under the Maltese flag, which allows owners to remain anonymous. Shevchuk, the lawyer, explains, "Malta positions itself as a safe haven for capital, the purchase of luxury real estate, and especially boats and yachts. For this, they have established low tax rates and low fees for operating under the country's flag."
Prygodskyy and his family appear to be using the Santa Maria T. His granddaughter, Natalia Zinkova, published photographs on social media that display the yacht's luxurious interior.
She has also posted Instagram photos of her Mediterranean summer that correspond to the yacht's location as tracked by the MarineTraffic, a marine data web site. (See map)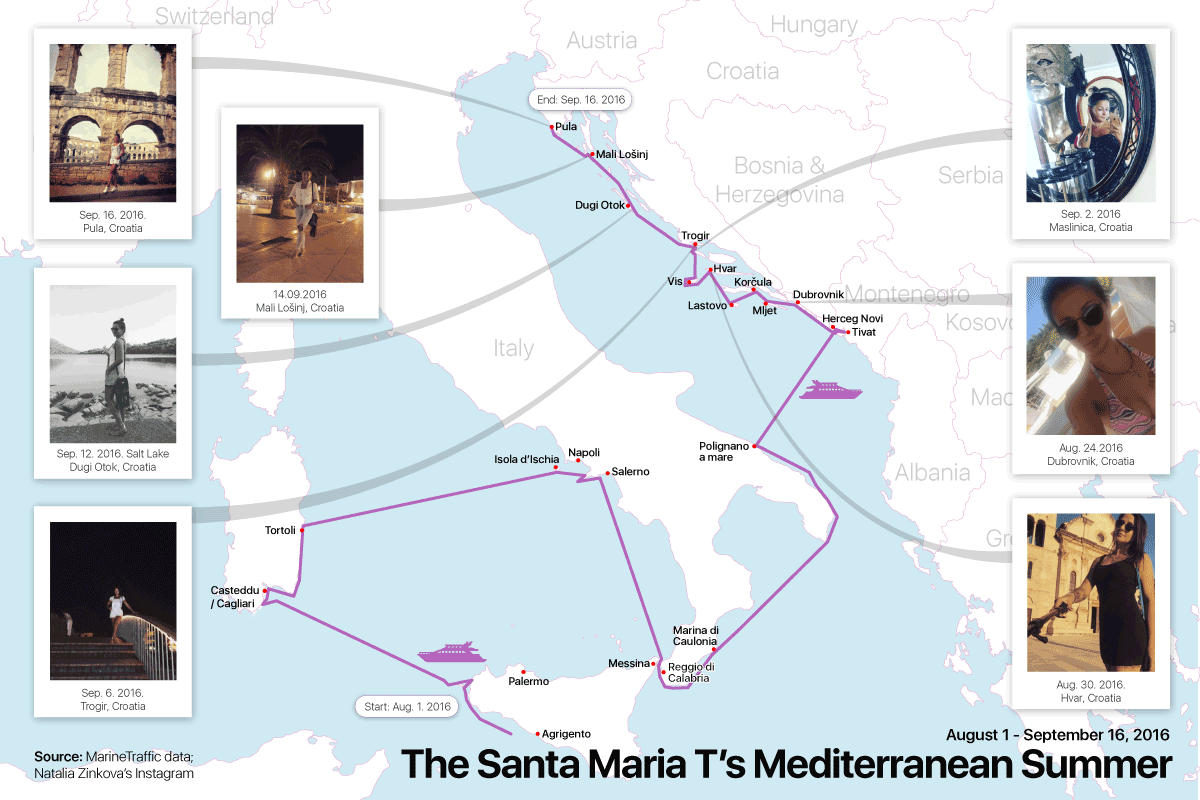 Attempts to contact Prygodskyy about the yacht were unsuccessful, as he did not answer OCCRP's calls. When reporters visited his office in Kyiv with a list of questions, employees said that he wasn't there and declined to share his contact information or to forward any questions.
The office is owned by Prygodskyy's Austrian company.
Criminal Cases
In the autumn of 2014, the State Fiscal Service of Ukraine began to investigate the activities of the Ukrtranslizing company between 2003-2013, while it was partly controlled by Prygodskyy. Prior to 2003, it had been a state-owned company that provided leasing services to rail and air transport. In 2003, during the premiership of Viktor Yanukovych, a majority of the company's shares came ended up in private hands – in particular, those of Prygodskyy and Rinat Akhmetov.
Investigators say that various actions of Ukrainian officials and Ukrtranslizing employees cost the Ukraine government almost 300 million hrvynias (around $13 million). For example, more than 10,000 freight wagons were "withdrawn" from state ownership, almost 7,000 of which are still owned by the Interregional Industrial Union, where Prygodskyy was a shareholder until 2012. In 2015, these wagons were impounded.
Prosecutors are also investigating allegations of money laundering by Ukrtranslizing officials in the amount of 220 million hryvnias (around $10 million). The prosecutors told OCCRP that the investigation is classified, but still ongoing. There have been no arrests, other than the freight wagons impounded two years ago.
Other Prygodskyy companies have also come under scrutiny. In 2004, the Interregional Industrial Union Corporation privatized the state-owned Chornomorsky sanatorium in Crimea. Ukraine's Ministry of Internal Affairs estimated the privatization cost the state more than 12 million hryvnias (about $2.3 million in 2005 currency). No one has been arrested or convicted in this case.
Prygodskyy's company also obtained a plot of land next to the sanatorium, on which a luxurious residence with pools and a helicopter landing pad was built. Though the residence belonged to Prygodskyy, it was used by Yanukovych.