At the end of a hard month of work, Jumshud Asgerli, a 46-year-old geologist, war veteran and father of three, was crestfallen when he did not receive his expected salary from the Azerbaijani gold mine where he worked. Soon after, he was among 300 other employees that got an email informing them they were taking a mandatory two-month vacation.
"After two months they sent us another email to say we'd be on vacation for an unknown period and would receive two thirds of our salary," said Asgerli.
But nearly two years later, the employees haven't been paid a cent officially, but they are still officially full-time mine workers who, under Azerbaijani law, can't take jobs elsewhere. Some have lost everything, they are stuck in a hellish limbo.
Their employer, Azerbaijan International Mineral Resources Operating Company Ltd. (AIMROC), came out of nowhere suddenly to become the second-largest gold producer in the country. Then it disappeared as quickly as it came, leaving employees in a desperate search to find out who actually was employing them.
Frustrated and desperate, they reached out to every government institution they could think of - from the Ministry of Ecology and Natural Resources and the Ministry of Labor and Social Protection of Population to the Parliament to the president himself. "They all pretend they don't know anything," said Asgerli.
But, cloaked behind an offshore organization, their employers were much closer than they imagined. They saw them almost daily wearing the latest fashions, carrying expensive handbags, and smiling from the pages of newspapers and magazines. Their employers were on TV attending openings and gala ceremonies and grand events talking about how great Azerbaijan was.
Their employers were Leyla and Arzu Aliyeva, the daughters of President Ilham Aliyev.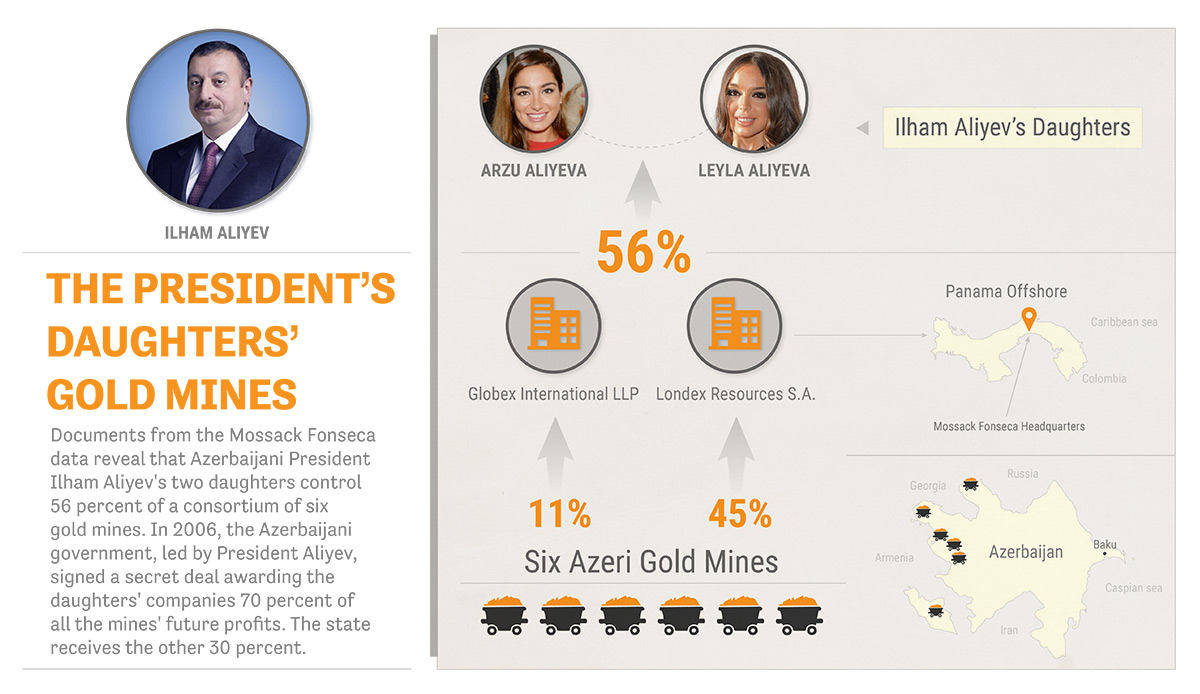 This information can be found in data from the Panama-based offshore services provider Mossack Fonseca, obtained by the German newspaper Süddeutsche Zeitung and shared by the International Consortium of Investigative Journalists with the OCCRP and more than 100 other media partners from 82 countries.
Golden Days
Nine years ago, the president awarded a consortium of six gold fields worth billions of dollars to one company in the United Kingdom (UK) and three in offshore jurisdictions: Globex International LLP, Londex Resources S.A., Willy & Meyris S.A. and Fargate Mining Corporation. But in reality, the fields went to his family.
A 2012 investigation by Radio Free Europe/Radio Liberty and the Organized Crime and Corruption Reporting Project (OCCRP) journalist Khadija Ismayilova showed the daughters were behind Globex International LLP which owned 11 percent of the consortium.
But the daughters' stake appears to be significantly bigger than previously reported.
The leaked records reveal that the daughters control Londex Resources S.A., a Panama company with a 45-percent stake in the consortium, putting their total control at 56 percent. The company has been the main operating company under the agreement and has been responsible for negotiations with the government.
It has acted on behalf of the other three partners to secure funding and manage the mining development.
The Aliyevs did not respond to repeated requests for comment from OCCRP.
As for the other three partners, Londex Resources S.A. owns AIMROC. The third company, Fargate Mining Corporation, was incorporated the same day as Londex Resources S.A. and seems to be controlled by Aliyev's close associate and business partner Nasib Hasanov, according to the leaked records. The government said the fourth company in the consortium, Willy & Meyris S.A., is registered in Panama, but OCCRP reporters couldn't find a trace of it. That share, given past patterns of family owned businesses, may be owned by them or someone close to them as well.
Financial records obtained by OCCRP show that Londex Resources S.A. spent nearly US$ 230 million to set up and operate the mining business. A factory was built in the mining town of Chovdar in western Azerbaijan and the consortium produced as much as US$ 30 million in gold before it abruptly ceased operations.
How did a company with such possibilities disappear so quickly? Some say the company had trouble selling gold on the world market due to its secretive ownership structure, while others are saying the consortium is still looking to sell.
Workers blame Londex Resources S.A. for their suffering. "The main company was Londex Resources S.A. The main company is responsible for everything," said Asgerli.
Whatever the reason, the fact the workers have gone without pay for nearly two years is, at the very least, an indictment of managerial indifference and incompetence.
The Aliyevs' Gold Rush
In the 2000s, the hamlet of Chovdar was just another small mountain village in Azerbaijan – unassuming and rural, with a local population of wolves and foxes that occasionally picked off the villagers' chickens.
Archaeological remains sketch a biography of the hamlet: Bronze Age burial mounds; an early Caucasian/Albanian church; later medieval Muslim sites. According to historians who studied the site, the relics are characteristic of the region, which like many other areas of Azerbaijan is now home to families displaced in the early 1990s by the Nagorno-Karabakh conflict with Armenia, a long-simmering dispute which flared up again on Saturday.
But Chovdar stood out in one important way: it sits atop fabulous deposits of gold ore estimated at one point to be worth as much as US$ 2.5 billion. Chovdar is thought to be the richest of several gold deposits in the country. Because industrial gold production requires investment and infrastructure, it was not until after the fall of the Soviet Union and independence that Azerbaijani authorities took notice.
In the oil boom of the mid-1990s, foreign capital flooded into Azerbaijan through production sharing agreements (PSAs) in which investors paid down costs and contributed expertise to develop rich natural resources, in return for a share of the profits.
In 1997, the oil industry PSA model was applied to the right to mine nine copper and gold development properties in three areas of Azerbaijan. These were signed over with much fanfare by then-President Heydar Aliyev to RV Investment Group Services LLC, a US firm based in Delaware that today is known as Anglo Asian Mining PLC.
Anglo Asian Mining is run by Iranian businessman Reza Vaziri.
Vaziri at first failed to secure capital to invest and the project nearly died, but a large and continuous rise in gold prices from US$ 350 an ounce in 2001 to more than US$ 1,800 an ounce 10 years later saved him. Azerbaijan started to think big about gold mining. The media wrote of large-scale construction of modern gold-mining tunnels and factories that would put Azerbaijan among the largest suppliers of gold on the world market.
In June 2005, Azerbaijan Minister of Ecology and Natural Resources Huseyn Baghirov announced that 30 new fields of precious metals, including four gold deposits, had been identified through survey work over the previous three years. One was of special importance: Chovdar in western Azerbaijan.
The media reported that the gold reserves in Chovdar dwarfed all of the other fields and Minister Baghirov announced that talks about developing Chovdar were underway with foreign companies.
Only one name was ever mentioned: RV Investment Group Services LLC, which told Trend News Agency in August 2005 that it was preparing a proposal to present the government for developing Chovdar. Company experts visited the field.
By the end of 2005, the price of gold had almost doubled to more than US$ 600 per ounce. RV Investment Group Services LLC begun to build facilities to extract 20 tons of gold at its Gedebey site, not far from Chovdar. Chovdar was not mentioned again.
But more than 12,000 kilometers away in Panama, one of the most popular places in the world to set up new companies in secret, a company called Londex Resources S.A. appeared. Londex took a leading role in a consortium it formed with three other companies. The company, on behalf of the consortium, would lead negotiations with the government and the president of Azerbaijan for a mining license to get at some of the country's best deposits.
The PSA: Aliyevs' Gain, Azerbaijan's Loss
On Dec. 30, the last Saturday of 2006 and a non-working day, the government of Azerbaijan secretly signed over rights to the Chovdar mine and five other sites to the Londex-led consortium.
Unlike the PSA agreements signed with RV Investment Group Services LLC in Azerbaijan, this one was never published. The only information about it came during a Parliamentary discussion in June 2007. The contract was approved even though members of Parliament complained that the consortium's ownership wasn't transparent, that the contract did not follow normal bidding procedures, and that none of the companies had any record of actual mining. The Parliamentarians complained that the deal worked against national interests.
At the hearings, Valeh Aleskerov, chair of the Natural Resources Committee of the Milli Mejlis (the Azerbaijani parliament), the body that reviewed the contract, advocated for the deal.
Aleskerov had worked with President Aliyev when they were both vice presidents at the state oil company, and he said the government had negotiated with three other companies, but dismissed their offers because those firms had demanded exclusive rights and offered no guarantees.
OCCRP could find no evidence that a tender was ever issued regarding the gold mine.
The other terms of the deal included a 30-year lease on the mineral fields, and a government profit share of 30 percent after all consortium costs were recovered. The deal was much more favorable than the one RV Investment Group Services LLC had signed a few years earlier. The consortium would end up getting 70 percent of profits compared to only 49 percent in the RV Investment Group Services LLC deal.
Aleskerov praised the fact that government would also receive a US$ 2 million bonus. But financial records OCCRP obtained show that the consortium not only never paid the bonus, but is facing a US$ 2.8 million penalty for non-payment. While not paying the bonus represents a breach of contract that would allow the government to terminate the contract, the records show consortium members were not at all concerned about such an event. Auditors who examined the financial statements noted that the government never requested the payment.
The consortium received other benefits. It was not required to pay any taxes other than the 22 percent income tax, and, unlike RV Investment Group Services LLC, it had higher quotas for hiring foreign nationals. Azerbaijan does not have a mining tradition and the ability to hire skilled foreign workers is of huge importance for any mine's success.
"Once the agreement was signed we realized they had much better terms then we did," said a mining executive with knowledge of the company who asked to remain anonymous. "Perhaps the fact that daughters were involved had something to do with that."
Fall of the Empire: Naivety or Greed?
The Aliyevs were quick to get the business going.
"When I joined they had already committed a fair amount of money to setting up the project company and quarry assets, the portfolio of mining projects and mineral properties, but they obviously were not mining people," said Carl Caumartin, CEO from 2008 until 2011 of AIMROC, the local operating company established by Londex Resources S.A.
With the price of gold at US$ 900 per ounce, the company was "chasing all kinds of properties and projects" and throwing money around. Caumartin says he stopped it and focused on Chovdar, believing it potentially held 1.3 million ounces of gold, which at the time was worth more than US$ 1 billion.
And the price was still rising, with some estimates saying it could reach as much US$ 3,000 per ounce. With some US$ 3 billion at stake, the Aliyevs were eager for a big return on their investment.
Caumartin tells a story of what he calls AIMROC's naivety. In Ganja, they bought a farm that was supposed to be used as an exploration base. Londex Resources leaders picked the place because it had an underground cave where they wanted to smelt their gold securely.
"We got a gold room all figured out. Let's find gold now. It became our inside joke," said Caumartin.
He left in mid-2011. He said he was not totally in favor of the direction owners wanted to take the firm. The company had decided to speed up development of the project while Caumartin preferred to complete the full evaluation and engineering studies first before digging.
That might have been one of the factors that contributed to the project's failure to date. "They probably took a shortcut technically speaking … they were eager to get a return on the money invested," Caumartin said.
After he left, the company commissioned the plant and started production. The first gold bar was produced in late 2012. "The performance was not optimal and they were struggling to get the (financial) recovery they were hoping to get," said Caumartin.
Still, according to workers, the company managed to produce more than 2,000 kilograms of gold before it abruptly stopped production in April 2014. The offices closed, and the workers were put on leave. No one is responding to calls.
Nacaf Mammadov, a supervisor of gold production, who has worked for the company since August 2012, said: "Production of the gold went very well. Our directors told us to produce, let's say, 150 kilograms of gold a month. And we did it. We have seen them take (away the) gold with special security cars."
Despite this, workers were put on leave.
On June 27, 2014, Arda Arkun, AIMROC's then-chief executive officer, emailed workers saying they would not be able to make salary payments "due to having no access to funding" and he expressed hope they would receive funding in the nearest future so that "we can restart producing gold."
"We are working very hard on getting funding into the company to be able to start operations in the near future. We are meeting with various gold refineries to sell our gold production and to be able to start operations at our Chovdar mine."
Workers never heard from the company again.
Caumartin said the Aliyevs got in over their heads: "There is certain naivety or paradox there that they can be very successful in retail, financial, and in other areas – transportation, hotels – and they assume that just because they made a fortune in other sectors, going into mining can be just as easy. And it is not that complicated, but there are some things you need to know. We call it dumb money."
The consortium, unlike its counterparts in Azerbaijan, did not take the traditional mining path to a listing on the London (or some other) Stock Exchange.
"The great majority of mining companies are publicly listed companies. It's only small ones or ones in underdeveloped countries where you might get private ones. It takes quite a lot of capital to get a mine going. So you've got to be a fairly rich individual to be able to fund it privately," said a mining executive with knowledge of the company who refused to be named.
AIMROC couldn't be found on the lists of any major stock exchange. It didn't publish production results – in fact, its right to hide information about its business activities was enshrined in its PSA.
Unlike other mining companies that raised funds for exploration through capital markets, Londex Resources S.A. took out massive loans from several banks, including two owned by the family: Xalq Bank and Pasha Bank. Both banks have benefitted from deposits coming from the state, public authorities and state companies.
By the end of 2012, Londex Resources S.A. had borrowed US$ 146 million. It does not appear from records that any of that was paid back. At the same time, it has spent nearly US$ 230 million starting mining operations.
It is unknown what future AIMROC has. According to its latest annual report: "The process is currently suspended pending more funding, however, the members are confident the funding will be obtained and exploration subsequently restarted."
Workers said officials from the Ministry of Ecology and Mineral Resources told them that since July 2014, Londex Resources, S.A. has tried in vain to sell its shares. According to the spokesman, "Maybe after selling, all the problems could be fixed."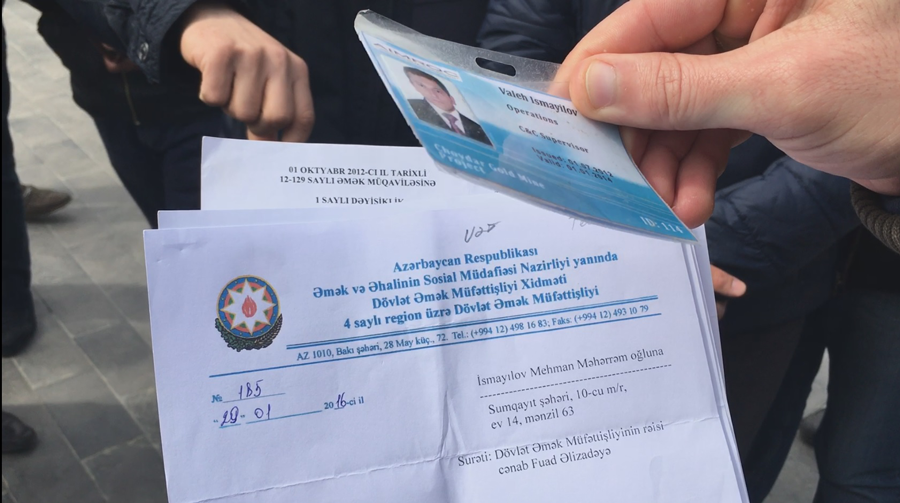 Workers Left High and Dry
Today the mine that was supposed to bring hope and employment to the village is deserted. OCCRP reporters recently visited it in the steep mountains surrounding the village. The last few kilometers are not much more than a dirt path. Once past a decrepit railroad freight station, there are no buildings anywhere along the last five kilometers to the mine entrance.
From a distance, recently constructed worker housing can be seen on a hill near the mine entrance. At the mine entrance, a single guard acknowledged that the mine has not been operating "for a couple years."
As soon as the reporter took a cellphone out of his pocket, the guard warned him and his driver to leave the area immediately. Seeing nothing else moving in sight, the reporter left.
Poverty, however, is evident. Life remains hard in Chovdar, where many of the mine's 300 workers lived. Hard times can be seen in the old houses, broken windows and doors, and people bundled into old clothes to protect themselves from cold.
Others, unable to get jobs elsewhere, have endured personal tragedies.
Yahya Verdiyev had been a mineworker. "I took credits from the bank. After we couldn't get our salary, I couldn't pay my credit. The bank took me to court and I was sentenced to two days in prison. I don't understand how, if I can't pay my loan, they can arrest me. But the company does not pay anything to 300 people and they can't even find it." Workers also told the story of a colleague who lost his apartment and now must lives in a rented place.
Another worker, Parviz Isayev said: "We all put our lives at risk. Cyanide and other chemicals are very bad for our bodies. But we needed to work. We are residents of the Azerbaijan Republic. But our government doesn't care about our problems. We don't know where to go. Who can help us. Even courts… We don't know what to do."
Last Bit of Hope
Barnaby Pace, a campaigner at Global Witness said "The clear corruption concerns raised here shows the need to know who really owns and controls companies, especially those involved in natural resources extraction where transparency is especially important.
Global Witness is calling for tax havens to end the abuse of anonymously owned companies by creating public registries of who really owns and controls companies.
"Secretly owned companies are the getaway cars for terrorists, dictators, money launderers and tax evaders all over the world. The time has clearly come to take away the keys, by requiring the publication of information on who really owns and controls these companies. This would make life much harder for the criminals," he said.
But that will be too late to help Azerbaijan's miners.
In late January 2016 and again in March, dozens of gold mine workers marched across the capital to the Ministry of Labor and Social Protection of Population, the Ministry of Ecology and Natural Resources, and the Presidential Administration building before reaching the Parliament.
"All we want is our unpaid salary," said geologist Asgerli, who hasn't been paid for almost two years. "But there is nobody who could help us."
"All of them say it is not their responsibility," said Mehman Ismayilov, another protesting worker.
Zohrab Ismayil, a Michigan University researcher with expertise on the use of oil revenues, public investments and public policy, said, "Right now we can see the results of the conflict of interest. Officials are 'silent'. Workers have protested several times with no results. Because everybody knows they can't do anything against this company. They haven't been paid and the government is still silent. They broke the condition of the agreement and the government is still silent … because 'officials' don't have any ability to do anything against this 'international' company."
Officials advised the workers to go to court. It represents their last hope. Most workers said they don't believe the court will help them. But two decided to trust the system.
Asgerli first filed a lawsuit against Aliyevs' Londex Resources S.A. in February demanding his unpaid salary. The Yasamal District Court where the company had an office referred him to Khatai District Court because that's where Londex is formally registered.
The Khatai District Court will hear his case on Wednesday (April 6). He said he read these companies are owned by the First Family, but he did not see their names anywhere.
"For me everything will be crystal clear after my court case against Londex Resources S.A. I will see how just they will be during the court process. We will see."
Additional reporting by Irene Velska, Lejla Sarcevic and Stella Roque. Radio Free Europe/Radio Liberty contributed to this report.