Over the past 13 months, at least 68 cargo flights from Serbia, Slovakia, Bulgaria and Czech Republic have carried thousands of tons of munitions to Saudi Arabia, the United Arab Emirates (UAE) and Jordan, three key suppliers of the Syrian rebels.
Reporters for the Balkan Investigative Reporting Network (BIRN) and the Organized Crime and Corruption Reporting Project (OCCRP) identified the 68 flights through detailed analysis of airport timetables, cargo carrier history, flight tracking data, leaked arms contracts and end user certificates and air traffic control sources.
The most recent airlift was on July 4, 2016, with the largest number of flights originating from Belgrade, the capital of Serbia.
Cargo flights from Central and Eastern Europe to the Middle East, and particularly military bases, were extremely uncommon before late 2012, when the upsurge in weapons and ammunition purchases began, according to EU flight data and interviews with plane-spotters.
The frequency of the cargo flights – on average one every six days – reveal a steady flow of weapons from Central and Eastern Europe to military bases and airports in Middle East, BIRN and OCCRP's analysis shows. Eleven different cargo carriers were used with Ruby Star Airways from Belarus, accounting for almost half of the flights. The most commonly used aircraft - the Ilyushin II-76 - can carry up to 50 tons of cargo or approximately 16,000 AK-47 Kalashnikov rifles or three million bullets. Others, including the Boeing 747, are capable of hauling at least twice that amount.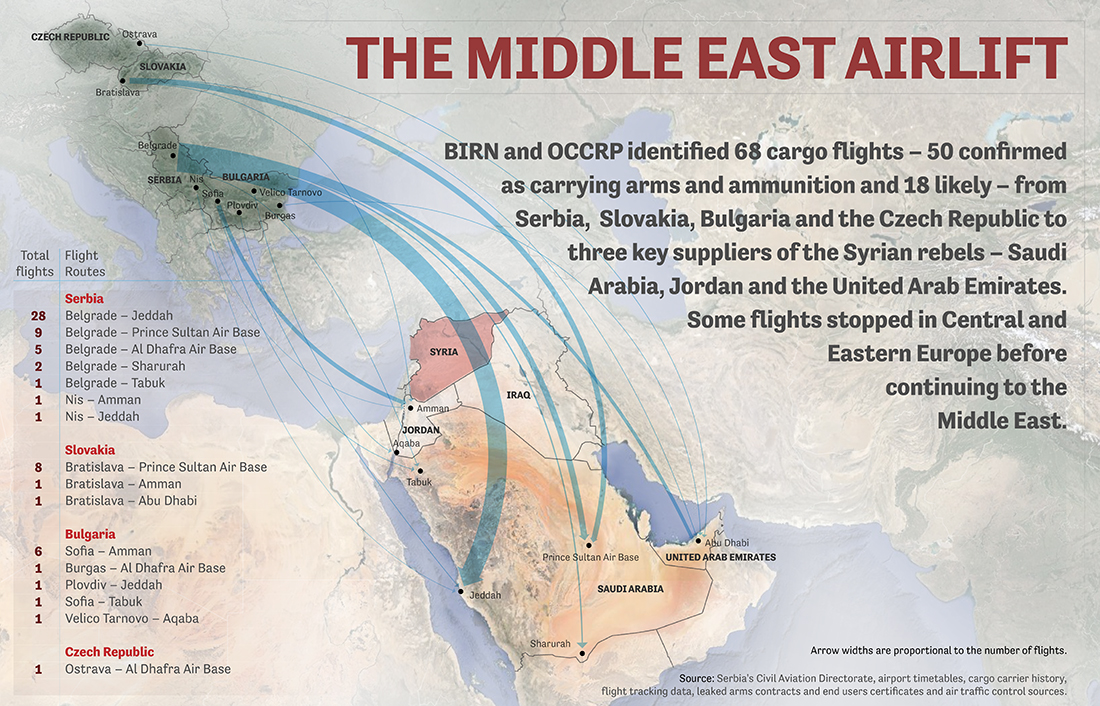 Of the 68 flights identified, 50 were officially confirmed to have carried arms and ammunition:
Serbia's Civil Aviation Directorate confirmed that 49 flights departing or passing through Serbia were carrying arms and ammunition from June 1, 2015 to July 4, 2016. The confirmation came following weeks of refusal on the ground of confidential information and after BIRN and OCCRP presented its evidence, including photographs showing military boxes being loaded onto planes at Belgrade's Nikola Tesla Airport on four different occasions.
An official at Bulgarian National Customs Agency confirmed one flight, operated by Belarussian cargo carrier Ruby Star Airways, was carrying arms from the remote Bulgarian Gorna Oryahovitsa Airport to Brno–Turany Airport, Czech Republic, and on to Aqaba, Jordan.
An additional 18 flights were identified as very likely to have been carrying arms and ammunition based on one of three variables: the air freight company's history of weapons supplies; connections to earlier arms flights; or a destination of a military airport:
Ten flights were made to Prince Sultan Air Base in Al Kharj, Saudi Arabia and Al Dhafra Air Base in Abu Dhabi, United Arab Emirates, indicating the likely presence of weapons or ammunition. Additionally, 14 flights to Prince Sultan and Al Dhafra air bases are confirmed as having carried weapons during the same period by the Serbia's Civil Aviation Directorate.
Seven flights were operated from Slovakia and Bulgaria by Jordan International Air Cargo, part of Royal Jordanian Air Force, which were revealed to have carried weapons and ammunition from Croatia to Jordan in the winter of 2012. Bulgarian retired colonel and counter-terrorism expert Slavcho Velkov, who maintains extensive contacts with the military, told BIRN and OCCRP that the Sofia-Amman flights "were transporting weapons to Saudi Arabia, mostly for the Syrian conflict." Additionally, one other flight operated by this airline is confirmed as having carried weapons during the same period by the Serbia's Civil Aviation Directorate.
One flight was operated by a Belarussian cargo carrier TransAVIAexport Airlines, which has a long history of transporting weapons. In 2014, the airlines was hired by Serbian arms dealer Slobodan Tesic to transport Serbian and Belarussian weapons and ammunition to air bases in Libya controlled by various militant groups. The United Nations (UN) Sanctions Committee investigated the case and found potential breaches of UN sanctions, according to a 2015 UN report. Additionally, five flights operated by this airline are confirmed as having carried weapons during the same period by the Serbia's Civil Aviation Directorate.
Additional reporting by Atanas Tchobanov and Pavla Holcova.