In a village about 250 kilometers from Baku, near Azerbaijan's border with Iran, Elkhan Aliyev, a 44-year-old electrician and father of two, lives on a modest farm. On paper, this man (who has no relation to President Ilham Aliyev) is the owner of Trans-Signal-Rabita LLC, a firm that has strong political ties with the Azerbaijani government and connections with known and respected firms from Canada, Sweden and Russia.
Something isn't right.
In early 2013, Trans-Signal-Rabita came out of nowhere and formed a consortium with Swedish engineering giant Bombardier Transportation AB and its Russian subsidiary to win a US$ 340 million contract with Azerbaijan Railways. The massive project (see infographic) entailed installing signaling equipment along 503 kilometers of the Baku-Boyuk Kesik section of the international transport corridor that connects Asia and Europe.
Trans-Signal-Rabita's share of the deal was 44 million Azerbaijani manats (at the time worth $56.8 million) to lay fiber-optic cables and install signaling equipment which would allow trains along the line to be monitored by and communicate with a traffic control center.
Those numbers seem hard to believe outside Aliyev's modest rural home, where water boils on a cooking stove outside the front door, chickens cluck and cows graze in the backyard. When reporters visit, Aliyev's mother opens the door and apologizes that he is at work at the local medical center.
Aliyev knows nothing about the company making multi-million-dollar deals that he supposedly founded.
"A man close to me recommended that I open it," he said in a brief phone conversation with the Organized Crime and Corruption Reporting Project (OCCRP). "To be honest, I'm just the founder of the company. I don't have any connection with people who run it. … I can't talk about this … I don't know anything."
The Origin of the Deal
The real power behind Trans-Signal-Rabita – who thought it up and who is getting rich from it – is a carefully kept secret. But a review of the company's internal records by OCCRP shows that the company is closely connected to insiders at Azerbaijan Railways. Its inclusion in Bombardier's bid was, in fact, organized at the suggestion of Azerbaijani officials. And its $56.8 million share of the $340 million tender likely represented a kickback to powerful insiders.
In December 2012, just months before the giant bid was awarded, Evgeny Pavlov, then head of business development and deputy general director of Bombardier's Moscow office, visited Baku to meet with managers of the state-owned Azerbaijan Railways and, unusually, representatives of the tender committee that would evaluate bids for the signaling project.
The conversations seemed to go well. The men agreed to prepare tender documents "based on BT (Bombardier Transportation) terms," as Pavlov wrote in an email to his colleagues. In other words, the tender would be tailored to ensure that only Bombardier could win. Bombardier's Russian team, he wrote, would "adapt [the Azerbaijani] tech document in correspondence with our solution." He was explaining that the Azerbaijanis' tender requirements would be rewritten by Bombardier itself, a blatantly unethical and possibly illegal act.
But winning "the most important bid within former Soviet territory for the last 10 years" – as an internal Bombardier document described it – came with a price.
During the same series of meetings, unidentified Azerbaijani officials suggested that Bombardier might like to submit its bid in conjunction with a local partner. Trans-Signal-Rabita was their choice – and secrecy, they said, was essential.
Through all of this, Pavlov kept notes. "The partners such as AZD (Azerbaijan Railways) want to keep all its activities in the secret (sic)," he wrote. "So, we need to keep it in the top-secret (sic) inside BT (Bombardier Transportation)."
Pavlov was arrested and detained less than two weeks ago in Stockholm for colluding with Azerbaijani authorities and paying bribes to win the signaling deal. Two other Bombardier officials were also questioned by police.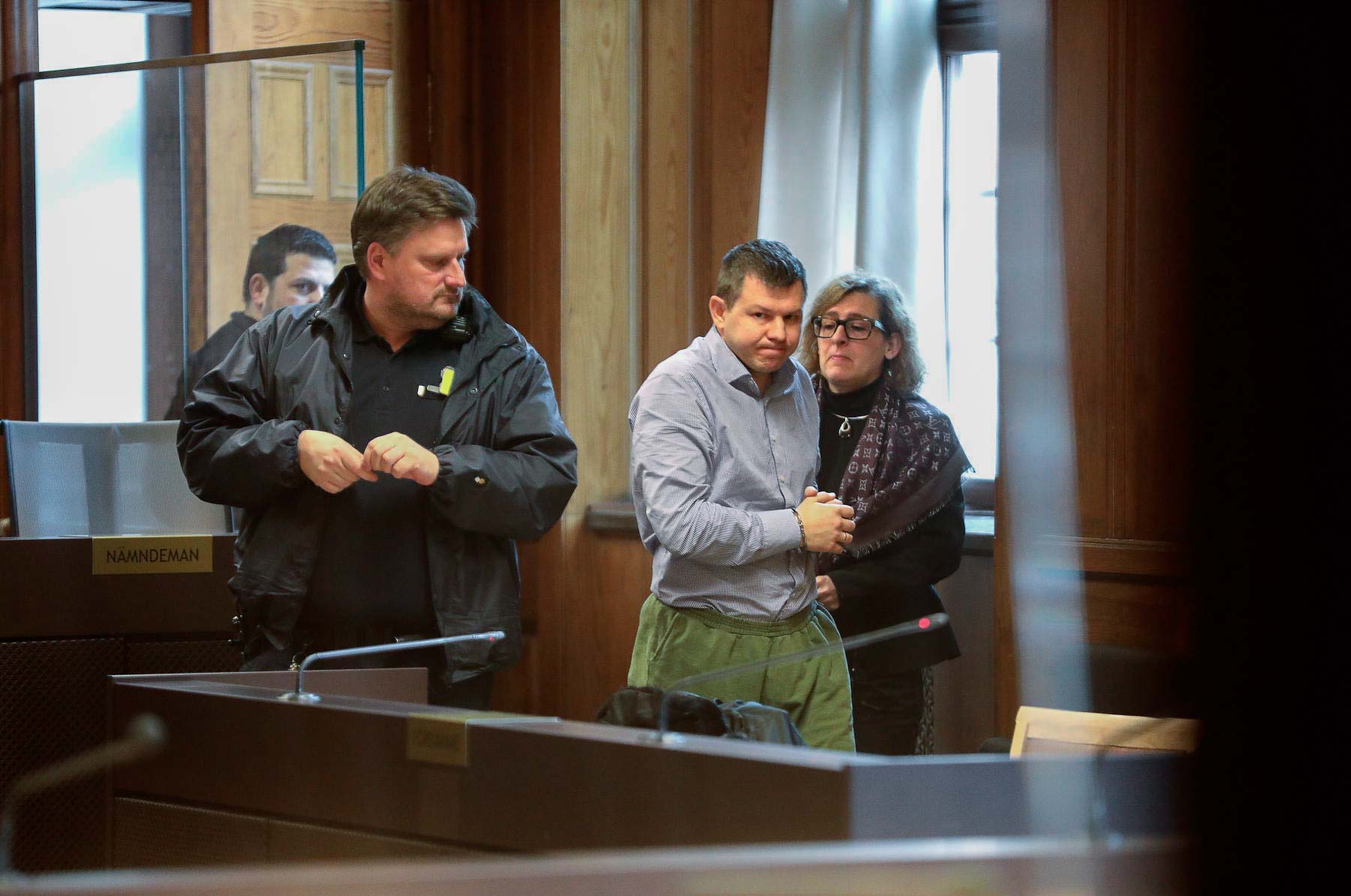 "They agreed to involve Azerbaijan companies as part of the joint venture. And they colluded with the foreign official … [to make it possible] to win the contract," said Tomas Forsberg, a Swedish anti-corruption prosecutor.
The fact that Azerbaijan Railways issued tender specifications edited by Bombardier Russia and tailored for Bombardier technology is confirmed in confidential Bombardier documents that were obtained by Swedish television's flagship investigative program "Uppdrag Granskning" ("Mission Investigate") and Swedish News Agency TT and shared with OCCRP and Radio Canada.
Skimpy Paperwork
Trans-Signal-Rabita was incorporated in April 2008 within days of an official announcement that Azerbaijani authorities were planning a major overhaul of the country's rail system. There was plenty of money to be made.
Since then, Azerbaijani Railways has borrowed nearly $2 billion for large railway infrastructure projects, including two loans totaling $670 million from the World Bank. Hundreds of millions more came from the Azerbaijani government and SOCAR, the state oil company. Investments also flowed into Georgia, where Azerbaijan is financing the Georgian section of the Baku-Tbilisi-Kars railway line, which terminates in Turkey.
In Bombardier's tender submission, Trans-Signal-Rabita is described as a strong business. The submission says it has a Baku office, qualified staff, and experience with signaling work in Azerbaijan and neighboring Georgia.
But there is no mention of Trans-Signal-Rabita in any media accounts before its Bombardier deal. OCCRP reporters found no evidence that the company had ever applied for or won a tender. The company has no website and no contact information in any directory, and there is no evidence that it has ever advertised any jobs online.
In a document obtained by reporters that purported to show its qualifications, Trans-Signal-Rabita listed 15 completed contracts in Azerbaijan and one in Georgia.
This work history raises questions. Eight of these contracts are for work done on a single 14-kilometer stretch of road in Baku, from the Azizbekov roundabout to the international airport. Five of the projects were completed between April 2008 and December 2009. Work on one started in 2002 and another in 2007, long before the company existed.
According to Trans-Signal-Rabita, most of its work in Azerbaijan was done for a single client, a company called AZVIRT LLC, but it also lists Azerbaijan Railways and five other clients.
Reporters for OCCRP reviewed all of these companies and found not a single mention of any collaboration with Trans-Signal-Rabita - though the companies regularly post the names and logos of their subcontractors on their web sites.
In Georgia, Trans-Signal-Rabita said it worked on the reconstruction and rehabilitation of the signaling system for two sections of the Marabda-Tsalka-Akhalkalaki railway line, which is funded by Azerbaijan.
The company listed two different employers for the exact same contract – Marabda-Kartsakhi Railway LLC and the Georgia branch of Azeryolservis. Neither mentioned Trans-Signal-Rabita as their contractor.
Missing Records Raise Questions
In 2013, Bombardier asked for five years of audited financial statements from Trans-Signal-Rabita to submit as part of its bid – this would serve as proof that it was a suitable local partner.
What Trans-Signal-Rabita finally submitted to Bombardier was a single sheet with a few lines that listed assets, expenses and income. Between 2008 and 2012, Trans-Signal-Rabita claimed, it had taken in $180 million in income.
These statements were long in coming, as evidenced by Bombardier's increasingly frustrated internal correspondence about not yet having received them. The documents indicate a worry that the firm's partnership with Trans-Signal-Rabita might not work out. Bombardier staff wondered whether they should start looking for a different partner – but they never did.
The true state of Trans-Signal-Rabita's finances may never be discovered. On Nov. 11, 2016, Xalq Newspaper, which is owned by the Office of President of Azerbaijan, published this notice: "Trans-Signal-Rabita LLC accounting documents from 2007 to 2013 have been lost and are invalidated. If someone finds them, they will be rewarded."
"A Non-existent Company"
In Georgia, Trans-Signal-Rabita is registered at the former address of BLC Law Office, a prominent Georgian firm. Lawyer Rusa Tckhuseli, who handled the paperwork, said BLC sent letters to many clients they had registered, asking them to change their legal addresses to where they were actually operating, but many ignored them – including Trans-Signal-Rabita.
In Azerbaijan, OCCRP reporters went to Trans-Signal-Rabita's official registered address on 28th of May Street in Baku's Lokbatan neighborhood, hoping to find the office and talk with executives.
What they found at the address was a building in a block of shabby, patched-up buildings sprouting satellite dishes and lines of clothing hung out to dry. It certainly didn't look like the office of a company that had won a $56.8 million deal.
The seven flights of concrete steps up to Trans-Signal-Rabita's No. 15 flat run through a cramped apartment building in need of a fix-up. Spackle dots the unpainted walls, and the building's residents have stashed padlocked supply lockers, old cartons, and even a tire in the hallways.
There is no office behind the door marked No. 15 – only a housewife who has lived there for 14 years, and who says that the postman has sometimes tried to deliver mail addressed to Trans-Signal-Rabita, which she refused to accept. She has no idea who runs the firm, what it does, or how it's connected to her family.
Shown a photo of the apartment building, Swedish corruption expert Louise Brown had no doubt when asked what conclusion she would draw about Trans-Signal-Rabita.
"A non-existent company," she said. "Does not exist."  
Additional reporting by Nino Bakradze, Dave Bloss, and Lasha Kveseladze (iFact.ge); Olesya Shmagun and Bermet Talant (OCCRP); Joachim Dyfvermark and Sven Bergman (SVT); Ola Westerberg (TT); and Luc Tremblay and Gino Harel (Radio Canada).